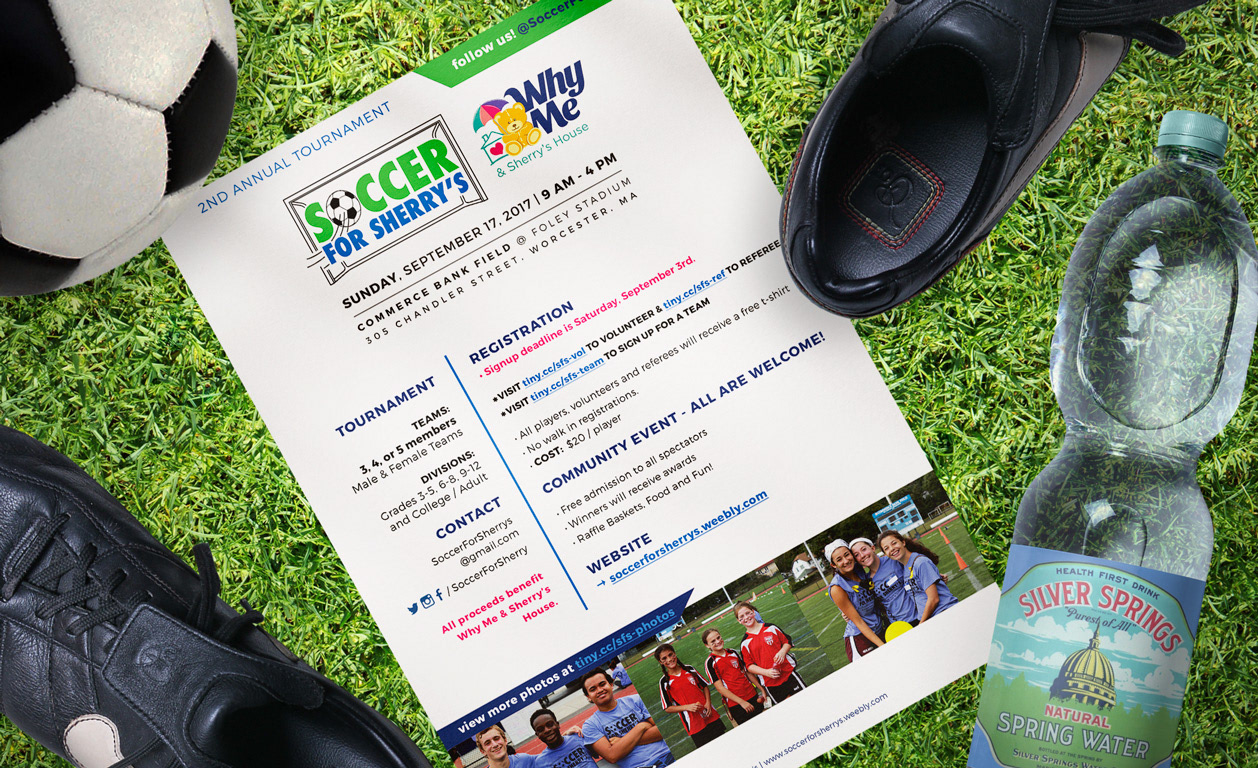 Soccer For Sherry's (SFS) is a charity soccer tournament benefitting Sherry's House, a no-cost home-away-from-home for families while their child is on active cancer treatment. Sherry's House is
 run by Why Me, a
Worcester-based nonprofit created to help Central New England families cope with childhood cancer.

— Visual Identity Construction, including:
      — Flyer and Banner Designs
      — Social Media Establishment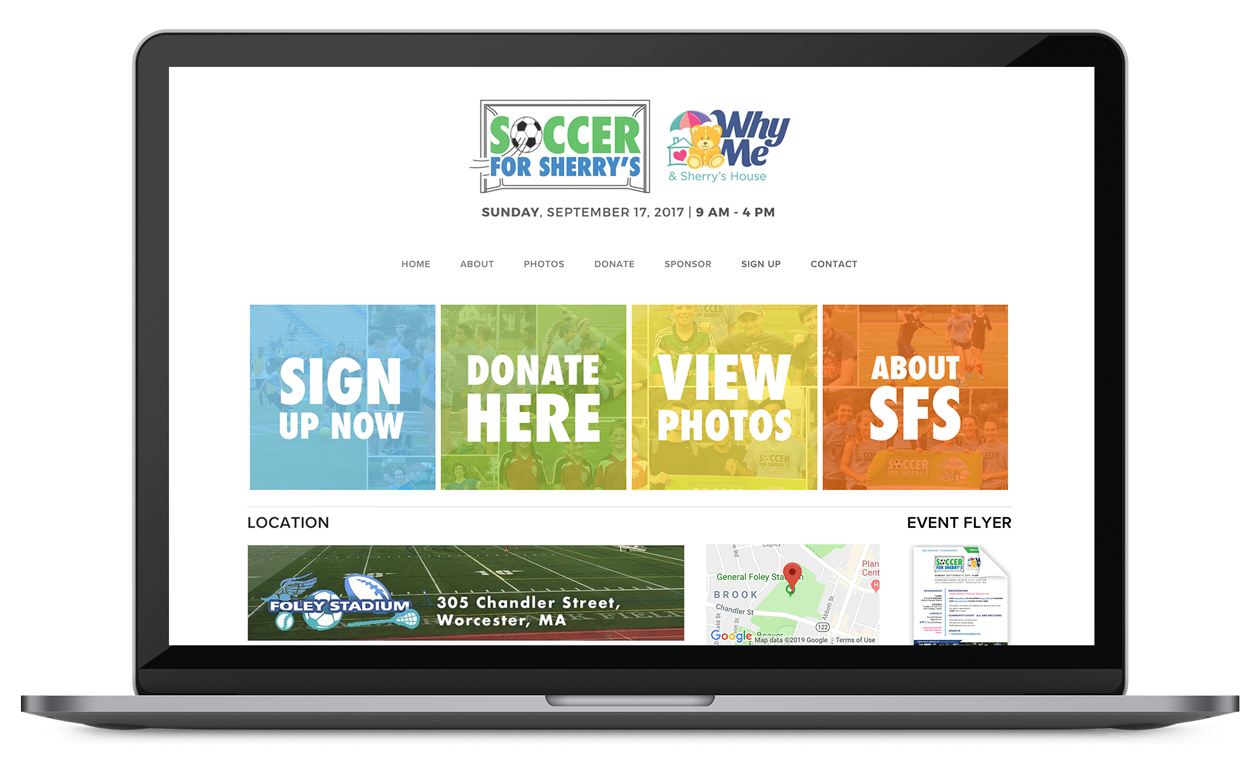 SFS was established by ten students—including myself—while we were in high school. It began as a way for community members to actively participate in a fundraising campaign for such an important local organization. Starting from scratch as its own entity, SFS needed a recognizable visual identity, with both a digital presence online and a physical presence through print collateral. At the event, this identity needed to be communicated through every design component.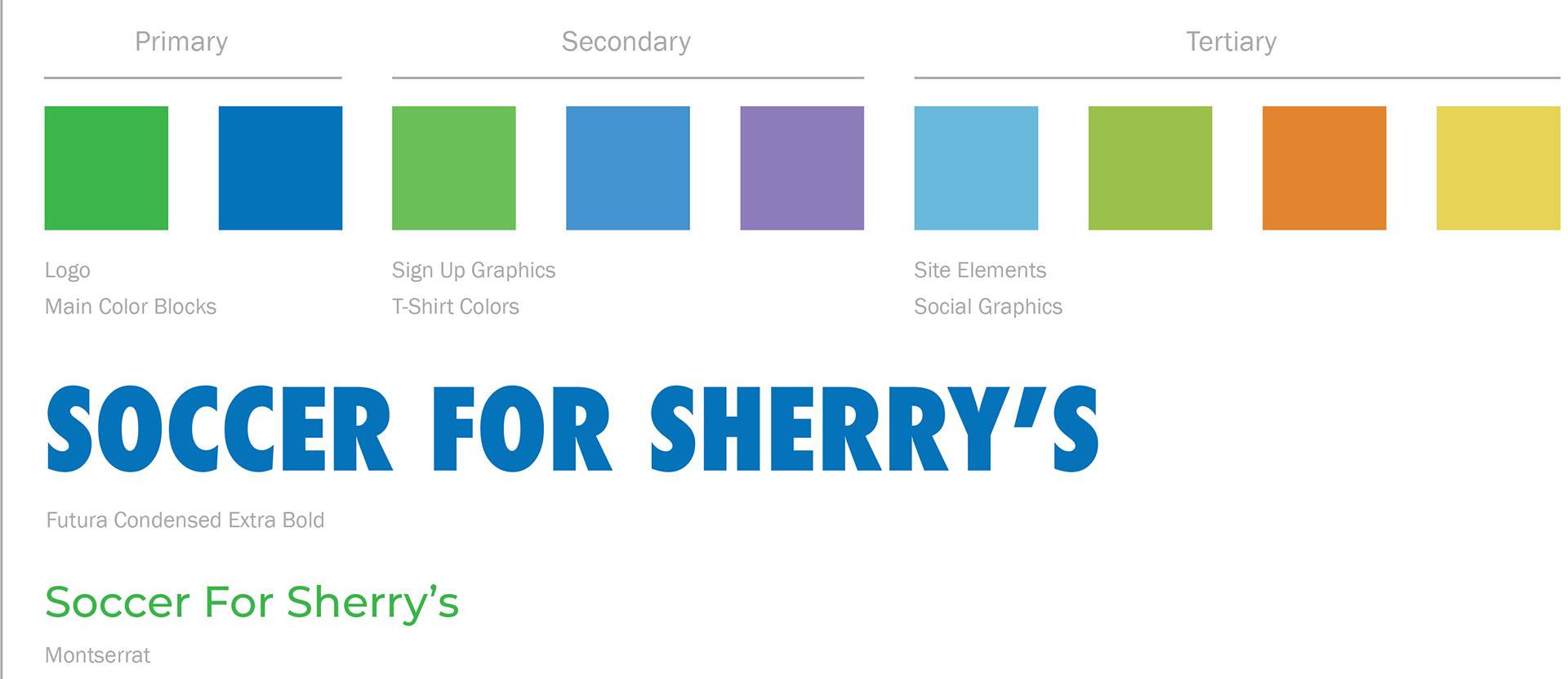 This was our second year running the event, and while I started to develop a visual identity for SFS in the first year, it needed strengthening as our goal was to bring in more people and raise more money than the previous year. While I was sole designer and executed every visual decision, my team and I collaborated so that the designs we produced communicated the SFS brand effectively. The design process also included feedback from the Why Me administrative team to ensure that our brand identity complemented theirs.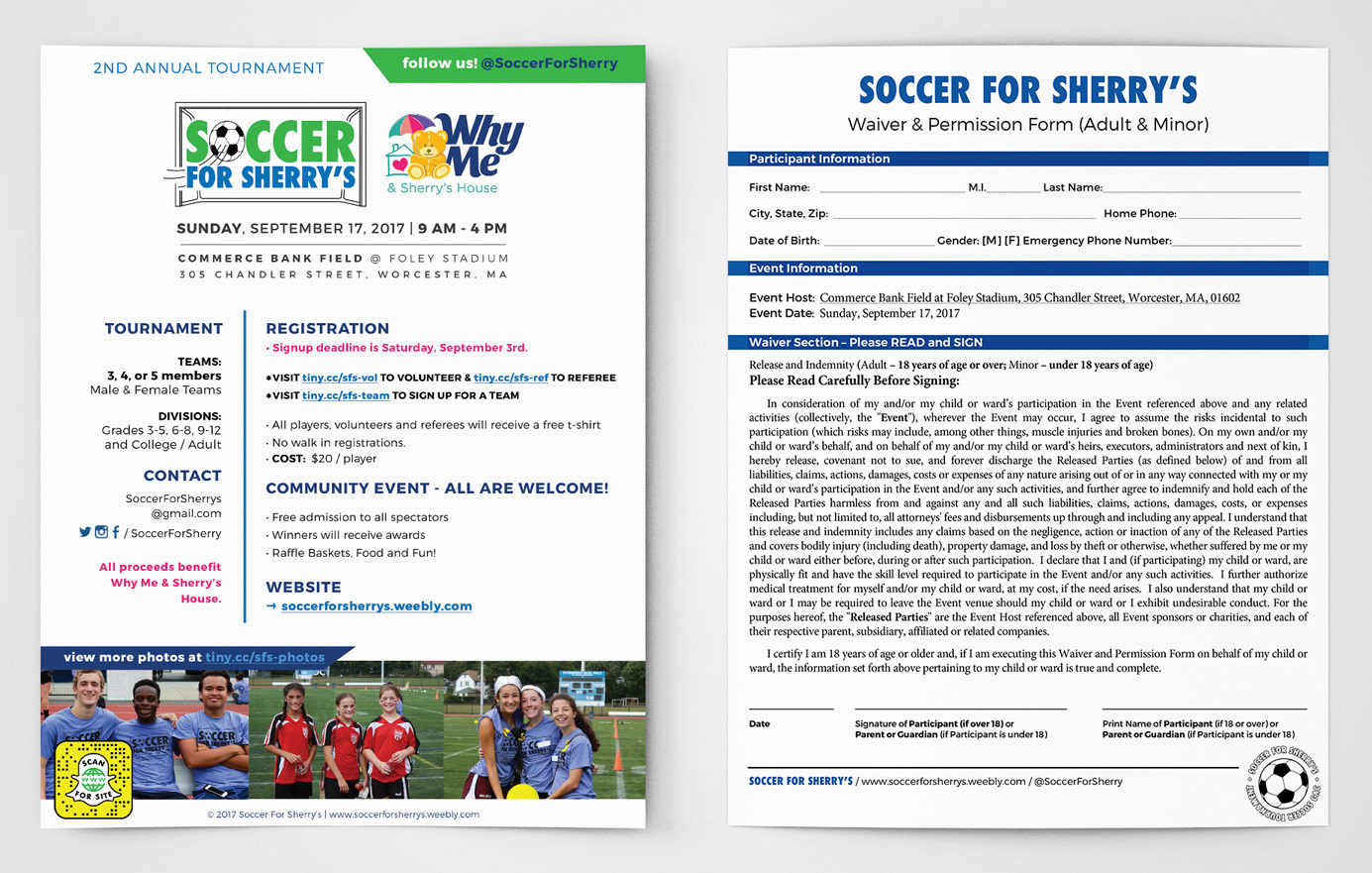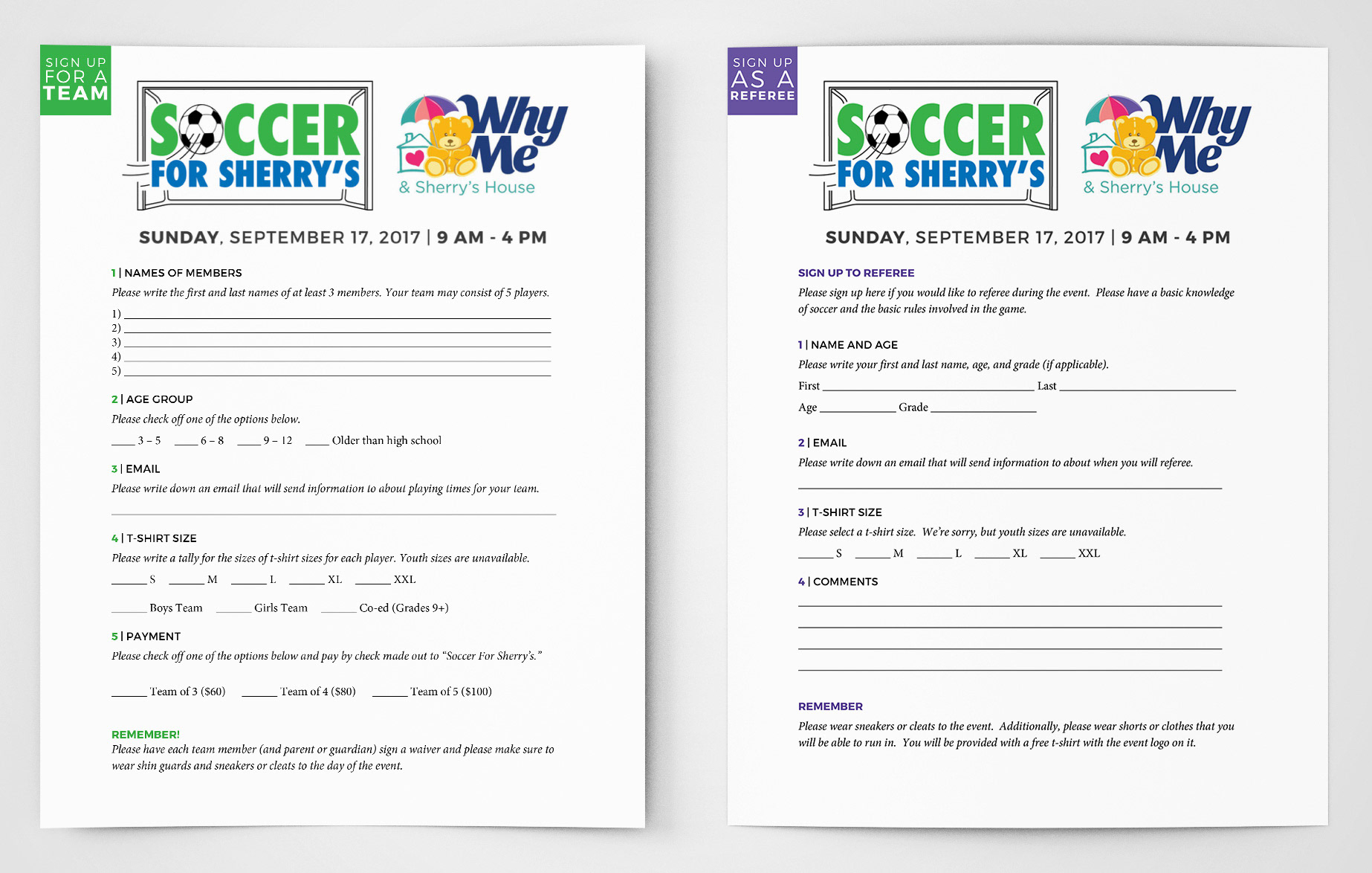 During the identity overhaul, I developed a color palette that drew inspiration from the turf and sky that would serve as the backdrop for the event. The green and blue chosen communicated playfulness, energy, approachability, trust, and sincerity—all values of our brand. Since Why Me's logo was already composed of multiple colors, our secondary colors included variations of our blue and green. Purple, orange, and yellow were inspired from the Why Me logo and used as secondary and tertiary colors.
Again drawing inspiration from the Why Me logo, I chose the sans-serif Montserrat as the main typeface, which evokes friendliness and simplicity. Futura Condensed Extra Bold was chosen for the logo as its iconic use in much of Nike's branding communicates athleticism, agility, and boldness.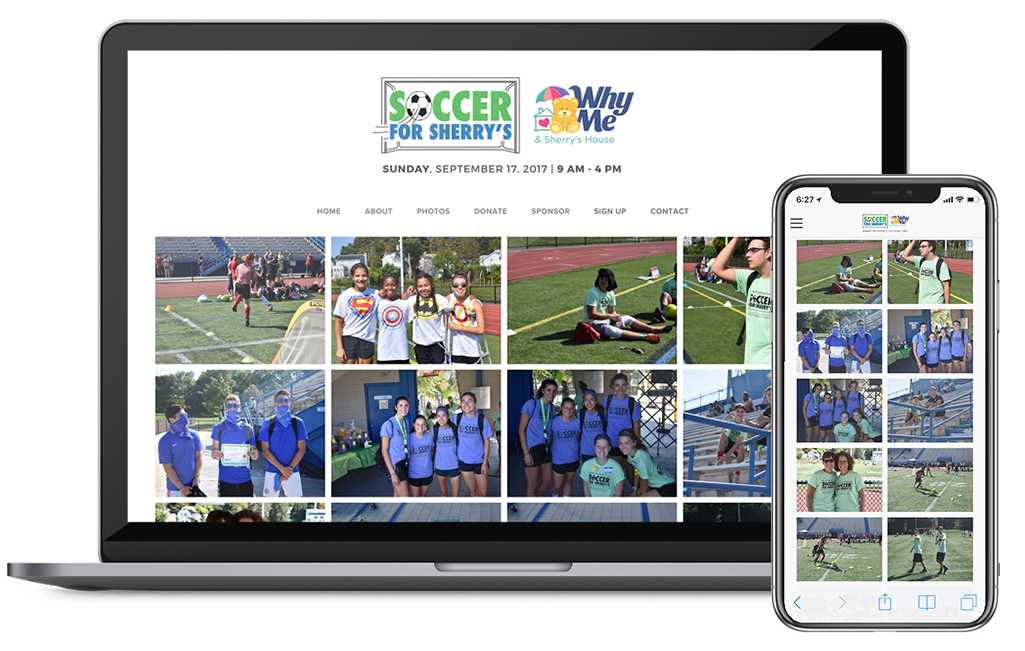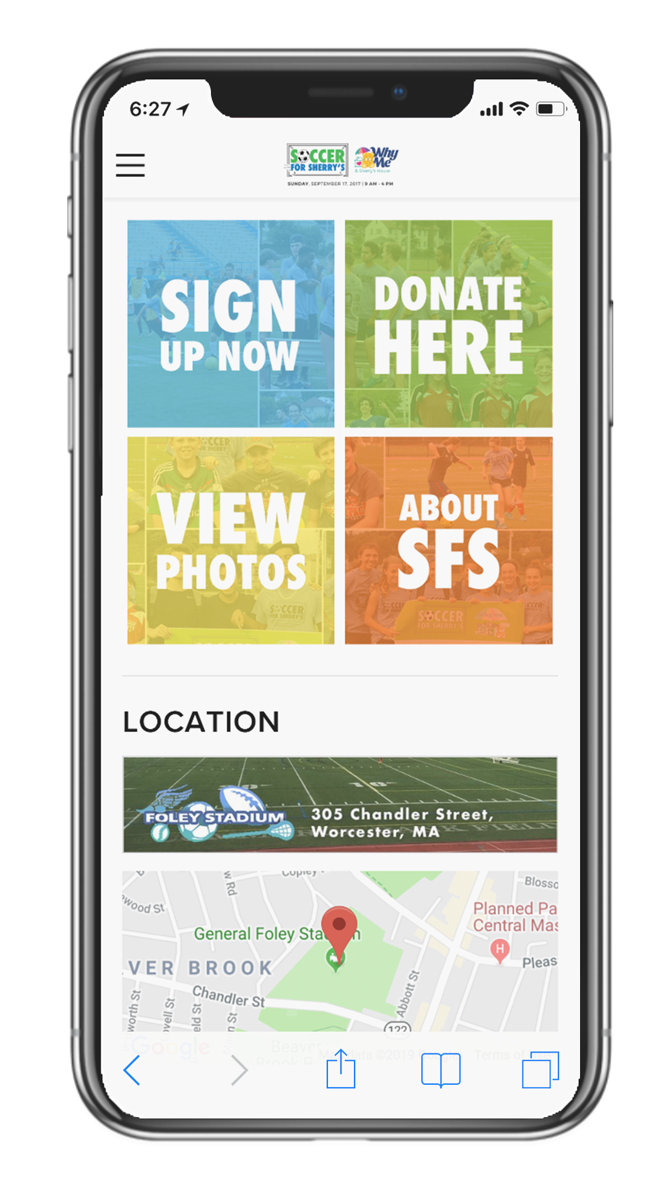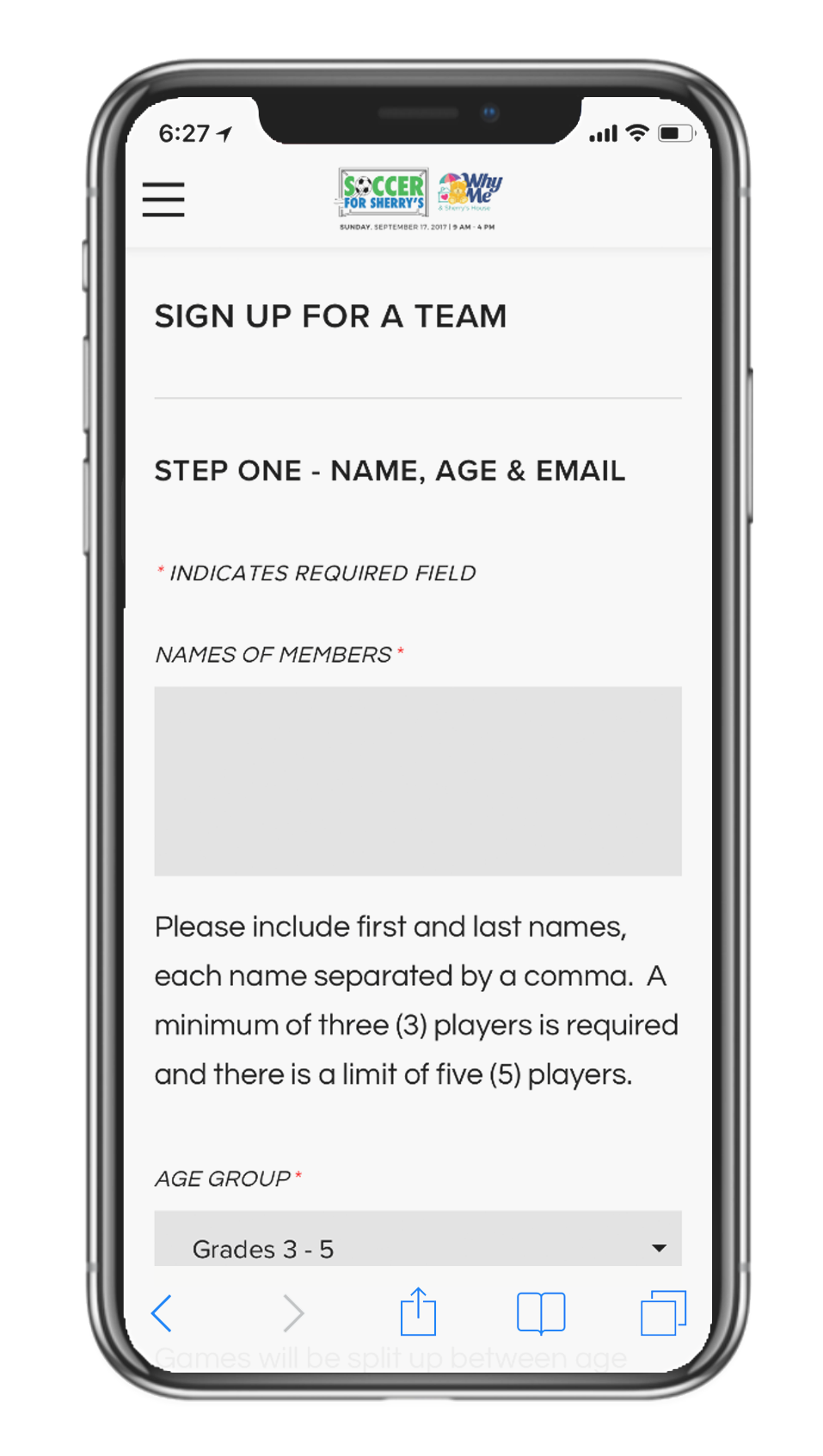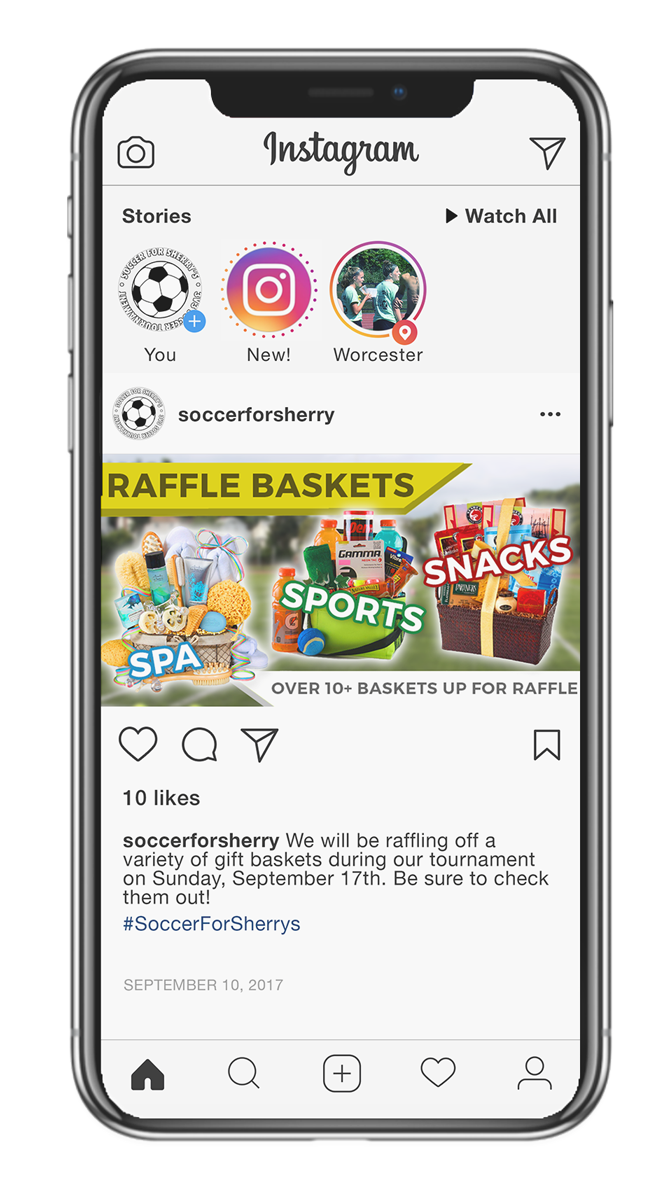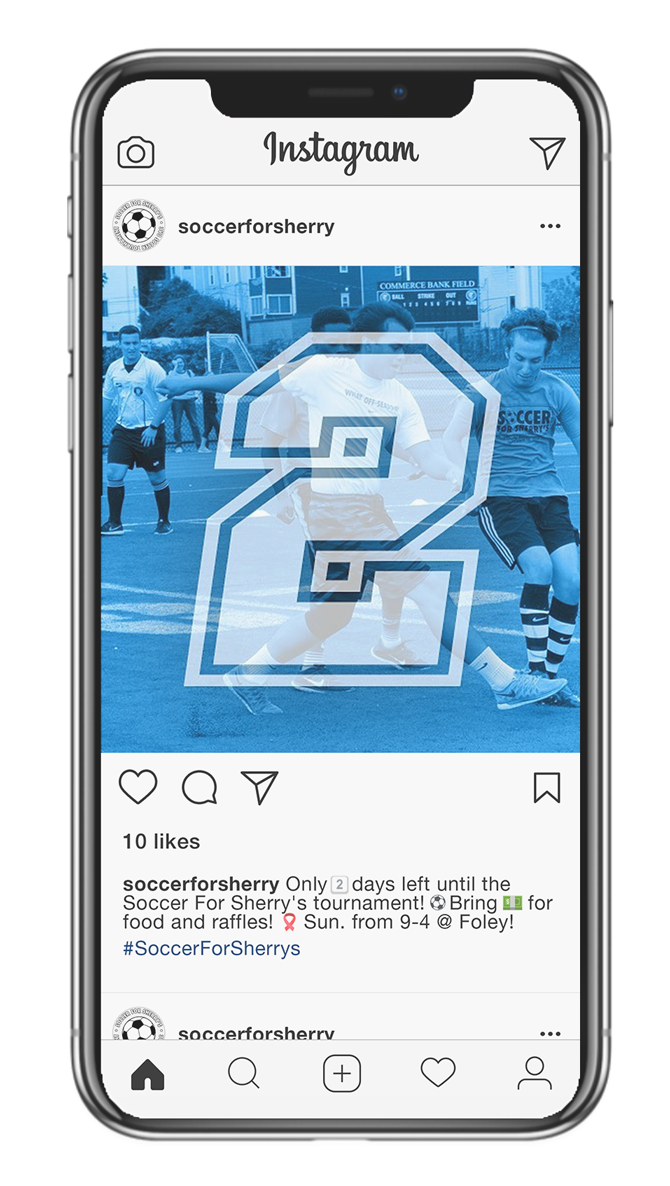 Since our audience was primarily students, our site—and social media graphics—had to be created specifically with mobile use in mind. Every page on the site was responsive, and teams and volunteers could sign up easily from their phones. Event flyers were printed and posted around local schools, community centers, and businesses. Our team tabled at soccer games and brought printed sign-up sheets to engage a larger audience.
Social media posts utilized our color palette, with bright colors, bold text, and high-quality photography to capture the attention of quick-scrolling users. I had taken all of the photos used in our print and digital collateral during the previous year's event.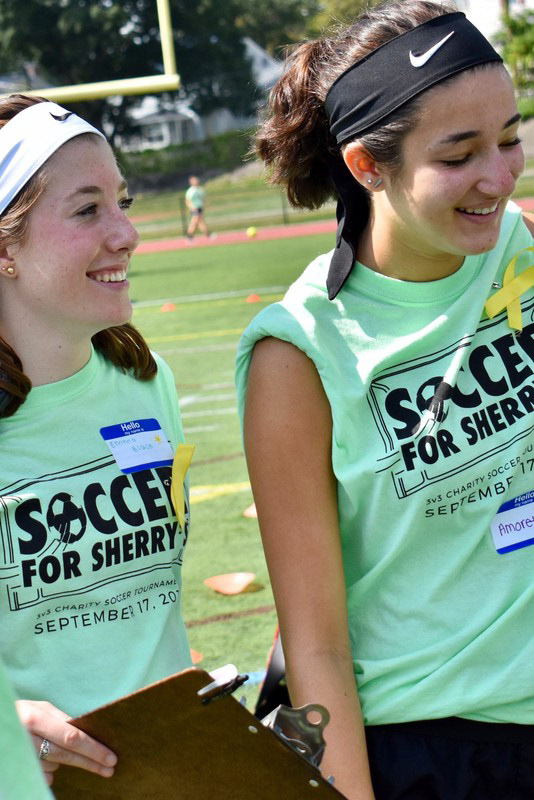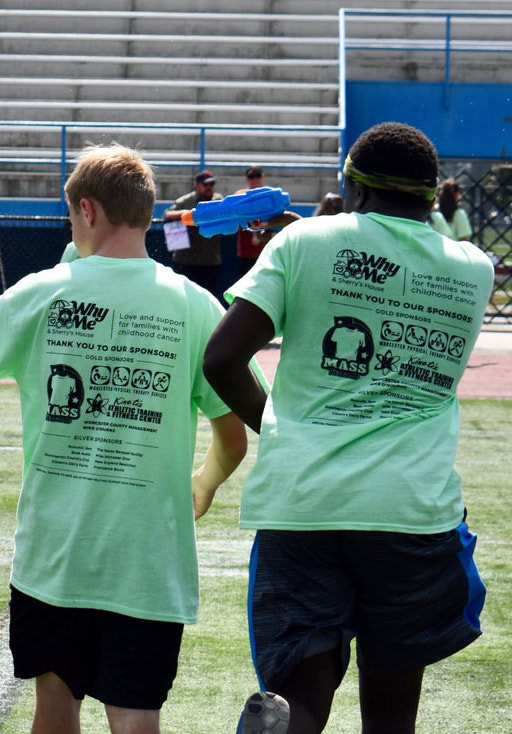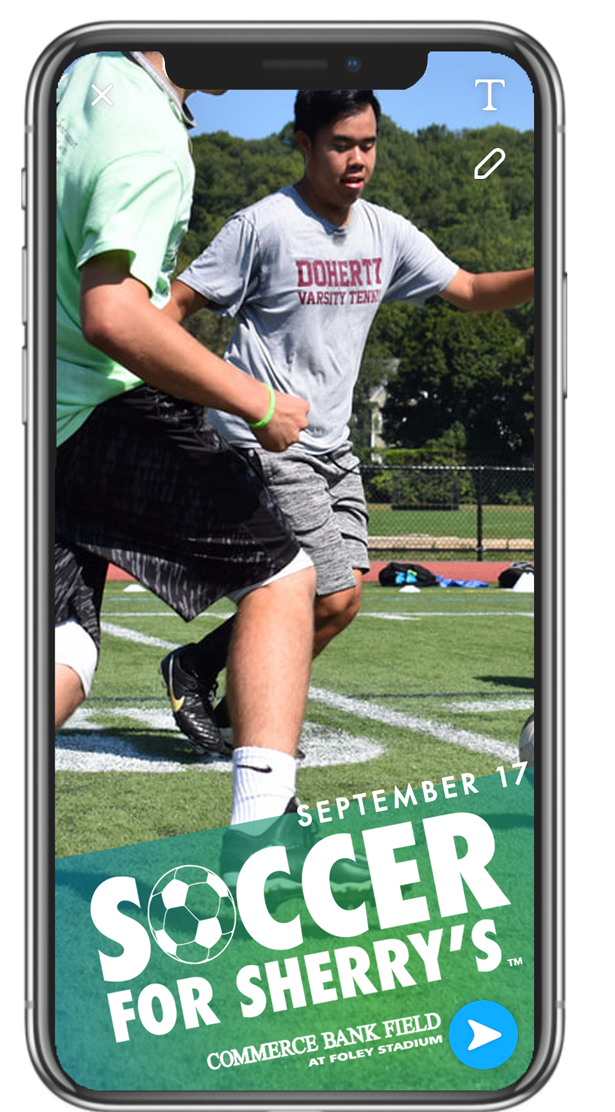 Since the event was entirely student-run, we had a relatively small budget to work with. In order to raise money for Why Me, we created promotional collateral which was sent to local businesses. Along with our branded envelopes, our letter described how they could sponsor the event and get their business logo on our t-shirt and site.
During the event, a banner I designed was used, along with printed certificates, for team group pictures that were posted on our website and shared across social media. The certificates were customized with the Soccer For Sherry's visual identity and logo, with green as the central color.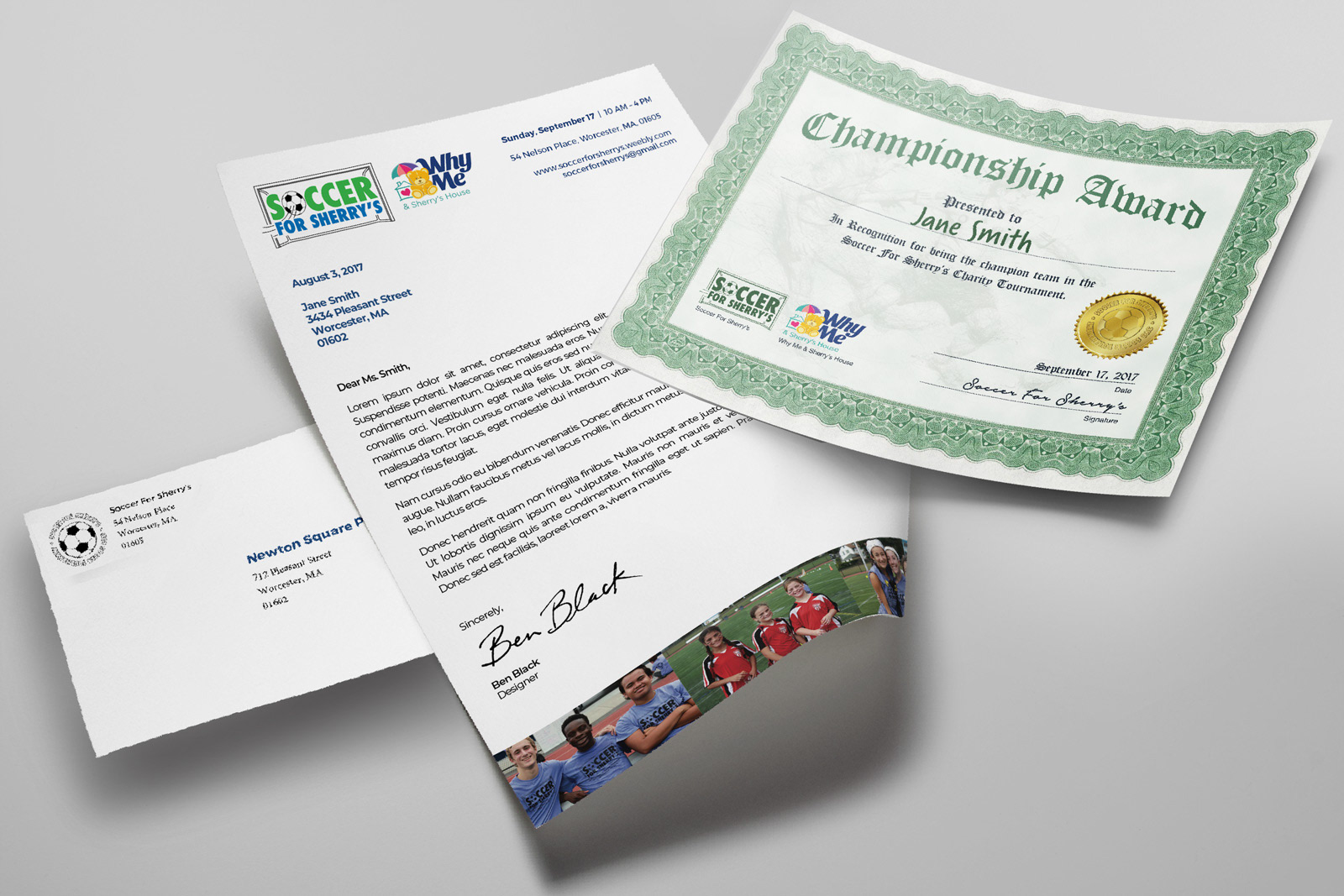 On social media, we obtained a total of 857 Instagram likes on posts shared with our #SoccerForSherrys hashtag. The metrics for our website during the two weeks leading up to the event include 635 unique users and 929 total sessions. 78% of users visited our site directly or found it through a search engine.

More than 170 players, volunteers, and community members attended the second annual tournament, with all players and volunteers wearing t-shirts, serving as free advertising for Why Me. From both tournaments, we raised a total of more than $7,000, and donated all of the money raised was to Why Me and Sherry's House. Danielle, the director of Family Services at Why Me, told our team that the staff at Why Me were "so touched by all of [our] hard work and efforts to raise this funding for our families."